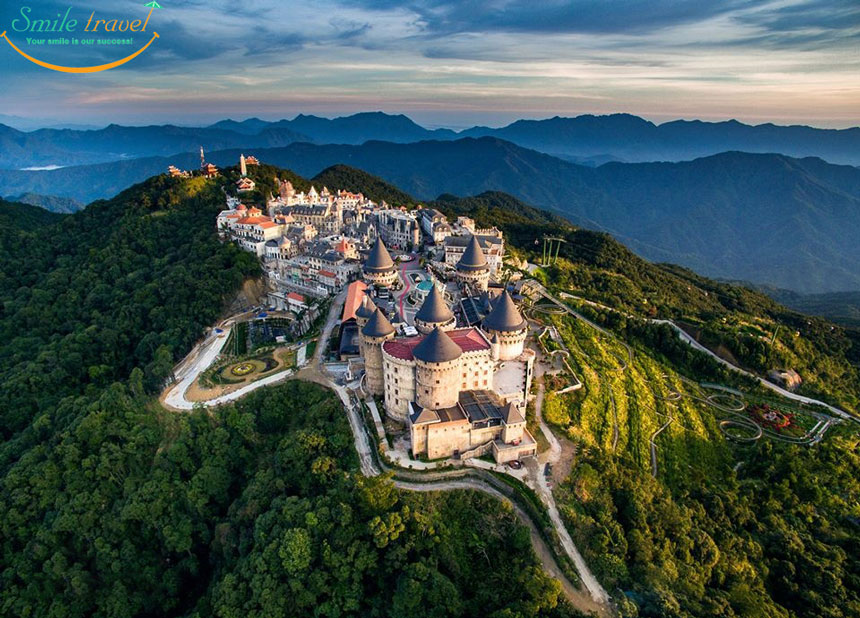 Visit Da Nang Vietnam
Visit Da Nang Vietnam
Welcome to Da Nang City.
Country: Vietnam
Region:            South Central Coast
Central district:           Hải Châu
Demonym:      Dananger
Government
Secretary of Communist Party: Trương Quang Nghĩa
Chairman of People's Council: Nguyễn Nho Trung
Chairman of People's Committee: Huỳnh Đức Thơ
Area
Total: 1,285.4 km2 (496.3 sq mi)
Population (2019)
Total: 1,134,310[1]
Ethnicities: Kinh, Cơ-tu, Tày
Time zone:       UTC+07:00 (ICT)
Area codes:     236
ISO: 3166 code           VN-DN
Da Nang General:
– Da Nang city lies in the Midlands of Viet Nam, from which Ha Noi capital in the north and Ho Chi Minh city in the south are almost equally spaced. Da Nang is also the central point connecting three UNESCO World Heritage sites: Hue Citadel, Hoi An ancient town and My Son Sanctuary.
Da Nang borders Thua Thien Hue province in the north, Quang Nam province in the west and south, and the East Sea in the east. The city is located in the middle of the country, on North – South trunk roads on road, rail, sea and air and lies at one end of the East–West Economic Corridor, an economic corridor connecting Vietnam with Laos, Thailand, and Burma (Myanmar).
The city has an area of ​​1156.53 km ² consists of 06 urban districts (Hai Chau, Thanh Khe, Lien Chieu, Ngu Hanh Son, Son Tra, Cam Le) and Hoa Vang rural district, the Hoang Sa island district, with a population of 942 132 inhabitants (as of to 31/11/2010).
2. Da Nang Climate:
Da Nang has a tropical monsoon climate with two seasons: a typhoon and wet season from September to December and a dry season from January to August. Temperatures have an annual average of around 26 °C (79 °F). Cold waves can occasionally occur although they are of short duration.Temperatures are highest between June and August with mean temperatures of 28 to 30 °C (82 to 86 °F)), and lowest between December and February (mean temperature of 18 to 23 °C (64 to 73 °F)).In Ba Na Hills, the temperatures are lower with an annual average of 20 °C (68 °F).The annual average for humidity is 81%, with highs between October and January (reaching 84–86%) and lows between June and August (reaching 75–77%).
On average, Da Nang receives 2,153 mm (84.8 in) of rainfall. Rainfall is typically highest between September and November (ranging from 550 to 1,000 mm (22 to 39 in)) and lowest between February and April (ranging from 23 to 40 mm (0.91 to 1.57 in)).Da Nang receives an average of 2156 hours of sunlight annually, with highs between 234 and 277 hours per month in May and June and lows between 69 and 165 hours per month in November and December.
3. 12 The Best Attractions in Da Nang- Vietnam
The best attractions in Da Nang are a good mix of centuries-old pagodas, French colonial buildings, as well as tranquil beaches with clear blue waters, and verdant national parks. Da Nang is known as the tourist capital of South Central Vietnam, with a west-coast location that makes for beautiful sunsets against an impressive backdrop of lush mountains.
The Golden Bridge
The Golden Bridge (Vietnamese: Cầu Vàng) is a 150-metre-long (490 ft) pedestrian bridge in the Ba Na Hills resort, near Da Nang, Vietnam. It is designed to connect the cable car station with the gardens (avoiding a steep incline) and to provide a scenic overlook and tourist attraction. The bridge loops nearly back around to itself, and has two giant stone hands (constructed of fiberglass and wire mesh) designed to appear to support the structure.
The client for the project was the Sun Group. The bridge was designed by TA Landscape Architecture (under Ho Chi Minh City University of Architecture) based in Ho Chi Minh City. The company's founder, Vu Viet Anh, was the project's principal designer, with Tran Quang Hung as the bridge designer and Nguyen Quang Huu Tuan as the bridge's design manager. Construction began in July 2017 and was completed in April 2018.The bridge opened in June 2018.
Dragon Bridge
Dragon Bridge in Da Nang is the longest bridge in Vietnam, offering a dazzling display of lights, fire, and water that no first-time visitor to Da Nang should miss out on. Measuring at 666 metres in length, it is located in Da Nang City and constructed in the shape of a golden dragon.
The six-lane bridge crosses the Han River, serving as direct routes to My Khe Beach and Non Nuoc Beach as well as a popular spot amongst traveling photographers. Dragon Bridge was officially opened in 2013 after a two-year-long construction, commemorating the 38th anniversary of Da Nang City's liberation. According to local beliefs, which date back to the Ly Dynasty, the dragon is a significant symbol of power, nobility and good fortune.
While it's a magnificent sight at any time of the day, Dragon Bridge Da Nang is particularly cool (and packed with sightseers) in the evening as it is illuminated with colorful LED lights. On weekends and annual festivities, the state-of-the-art bridge is also scheduled to spit water or breathe fire from its mouth from 21:00 onwards.
There are also plenty of riverfront bars, restaurants, and cafes offering terrace seats that overlook Vietnam's longest bridge. Alternatively, you can opt to sit at the waterfront (where marble carvings of animals and deities are set along the Han River) to enjoy the view.
Da Nang  Hai Van Pass
Hai Van Pass stands at 500m above sea level, making it the highest pass in Vietnam. It's located on the border between Thua Thien-Hue Province and Da Nang City, where you can enjoy panoramic views of verdant mountains and clear blue skies as well as Da Nang City, Tien Sa Port, Son Tra Peninsula, and South China Sea. The pass also hosts a dilapidated French-built fort that was later used as a bunker by South Vietnamese and US armies during the Vietnam War. Due to its sudden curves and blind corners, Hai Van is also notorious for its fair share of accidents – look out for small altars set along the roadside which are dedicated to perished victims.
Da Nang Cham Museum
With their roots dating back as far as 192 AD, Vietnam's indigenous Cham people lived an Indian way of life in both culture and language. The Cham Museum in Danang is dedicated to this period and the Champa existence which began predominantly in the coastal areas of Vietnam. Housing the largest exhibition of Cham sculpture in the world, the museum displays almost 300 terracotta and stone works of art ranging from the 7th to the 15th centuries.
Many of the exhibits are considered masterpieces of their field showcased according to the region in which they were found with a total of ten separate interior exhibition rooms. All of the sculptures on display fall into one of the following sections – icon, pedestal, pediment, or fragment, with the area in which they were found determining where they are exhibited.
When you've finished browsing the internal creations, step outside to appreciate the building itself carefully crafted with objects of worship including idols and holy animals surrounded by flowers, leaves and turrets all symbols of Hinduism.
+ Good to Know
It is the only museum of its kind in the world dedicated to the Champa era and was founded during the colonial French rule in 1915. Other sites rich in Cham history include Tra Kieu, Dong Duong, Thap Man and My Son which were all famous Champa areas and are well worth a visit as part of a wider study into this fascinating period. There is an onsite shop selling imitation pieces and there are also English-language guidebooks for sale.
+ Opening Hours: Daily from 07:00-17:00
Location: At the intersection of Bach Dang and Trung Nu Vuong in Danang by the Han River
Da Nang Cathedral
Da Nang Cathedral is one of the most unique catholic churches in Vietnam, featuring a pink-painted edifice, stained-glass windows, and an imposing bell tower topped with a rooster weathercock. Built by the French in 1923, it's also known as Con Ga Church (Rooster Church) and serves the local Catholic community to this very day. The cathedral is located along Tran Phu Street, about a 15-minute walk from the iconic Dragon Bridge. Entrance to Da Nang Cathedral is free of charge and its high tower offers a stunning view of the city, Han River, and verdant mountains
+ Opening Hours: Monday – Saturday 05:00 – 17:30, Sunday 05:00 – 17:00
+ Address: 156 Tran Phu Street, Da Nang
Tel: +84 511 387 3445
Da Nang Lady Buddha
Being the tallest Buddha statue in Vietnam, Lady Buddha Da Nang is located at Linh Ung Pagoda on Son Tra Peninsula in Da Nang which is 9 km away from My Khe beach, or 14 km from Da Nang city center. Lady Buddha Da Nang statue is inside Linh Ung pagoda courtyard with a height of 67m, the lotus diameter is 35m, equivalent to a 30-storey building.
The statue leans on the mountain, facing the sea, the kind eyes looking down, a hand exorcizes while the other hand is holding a bottle of holy water like sprinkling the peace to the offshore fishermen. On the hat of Lady Buddha statue, there is a Buddha statue 2m high. There are 17 floors in the statue lap, each floor has an altar with 21 Buddha statues which have different shapes, facial expression and posture.
Son Tra (Monkey) Mountain
Son Tra (Monkey) Mountain is a breath-taking national park in Da Nang that stands at 693 metres above sea level. Locally known as the Son Tra Peninsula, the winding roads surrounding prove to be a popular spot for motorcycling while hiking enthusiasts can enjoy the verdant jungles and also spot rare species such as the red face monkeys. Linh Ung Pagoda is also set on Son Tra (Monkey) Mountain, which is a prominent attraction in Da Nang for housing the tallest statue of the Goddess of Mercy. Built atop a lotus-shaped platform, there are a total of 21 miniature Buddha sculptures within the beautiful 67 meter-tall white statue.
Marble Mountains
Marble Mountains are a cluster of five limestone and marble hills within Hoa Hai District, about 9km south of Da Nang. Named after natural elements, the peaks are individually known as Thuy Son (water), Moc Son (wood), Hoa Son (fire), Kim Son (metal) and Tho Son (earth). There are also a host of 17th-century Buddhist sanctuaries and pagoda temples dotted across the mountains, where locals pray and get their fortunes told. A must-do for any first-time visitor to Da Nang is climbing the steps to the top of the Marble Mountains, where they can enjoy spectacular views across Non Nuoc Beach or My Khe Beach. Alternatively, there's an elevator service (VND 30,000) available for those with physical disabilities.
+ Opening Hours: Daily 07:00 – 17:00
+ Location: 9km south of Da Nang, Hoa Hai District
Ba Na Hill
Ba Na Hill Station (or Bà Nà Hills) is a hill station and resort located in the Trường Sơn Mountains west of the city of Da Nang, in central Vietnam. The station, advertised as "the Da Lat of Danang province" by local tourism authorities, was founded in 1919 by French colonists. The colonists had built a resort to be used as a leisure destination for French tourists. Being located above 1500 metres above sea level, it has a view of the East Sea and the surrounding mountains.
Tour da nang, tour in Danang, Vietnam tour package, Danang tours, Da nang to hue, Da nang to hue, Da nang beach, Vietnam tours, Vietnam holidays
Bana Hills Maps
Vietnam golden bridge,golden bridge,golden bridge vietnam location,how to get to golden bridge vietnam,golden bridge da nang price,golden bridge vietnam price,golden bridge da nang location,golden bridge da nang entrance fee,hoi an to golden bridge,golden bridge vietnam how to get there, Cau Vang, Cau Vang Danang, Smile Travel
View of Bana Hills
+ How much do Ba Na Hills tickets cost in 2020?
Ba Na Hills admission prices can vary. Entrance tickets currently cost $36.00, while a popular guided tour starts around $33 per person.
+ What time does Bana Hills open?
Sun World Ba Na Hills
Time to visit: 7 hours
Opening hours: 07:30 AM – 09:30 PM
Should visit at: 09:00 AM
Should leave before: 04:00 PM
My Khe Beach
My Khe Beach boasts a 20-mile stretch of white sand that's approximately 6km east of Da Nang. Named by the American troops who visited during the Vietnam War, it is considered to be one of Vietnam's most picturesque beaches. Hosting a number of high-end resorts and seafood restaurants, My Khe Beach is also a popular spot for sunbathing, fishing, snorkeling, jet-skiing, and surfing. Visitors can also check out numerous World Heritage Sites such as Hoi An Ancient Town, Hue Imperial City, and Phing Nga Caves, all of which are easily accessible via bus.
Cham Islands
Cham Islands consists of eight small islands off the coast of Hoi An, one of which are a recognized UNESCO World Biosphere Reserve. Cu Lao Cham Marine Park attracts travelers looking to enjoy a day of scuba diving and snorkeling, while on Hon Lao Island you can find fishing villages and pristine beaches that are great for sunbathing and water sports. Homestays (mostly located along Bai Chong Beach) is the most popular accommodation option on Cham Islands, but there are also plenty of restaurants and dive centers that offer tent rentals for about VND 350,000 per night.
+ Best Time to Go
The best time to visit Cham Islands is from March until September, due to the sunny weather and great water conditions. If you're planning to dive or snorkel during your visit, we highly recommend visiting between June and August. There are plenty of dive centers and tour companies offering day trips to Cu Lao Cham Marine Park, where you can find a variety of colorful corals and marine life.
The Cham Islands are inaccessible during the monsoon period, which takes place between October and February. The islands experience strong winds and waves that make traveling dangerous so there are no trips available at this time of the year.
4. The Best Shopping Places in Da Nang
1 Han Market
Han Market is a significant landmark in Da Nang, having been in operation since the French occupancy in the 1940s. Set within the grand intersection of Tran Phu Street, Bach Dang Street, Hung Vuong Street and Tran Hung Dao Street, this local market hosts hundreds of stalls selling an array of local produce, handicrafts, T-shirts, and accessories. Set in front of Han Market are fruit stalls where you can purchase tropical fruits such as bananas, mangoes, durian, and jackfruit. Ideal as souvenirs for loved ones back home, make sure you stock up on prepacked chilli paste, Ly Son garlic, rice crackers, and dried squid.
Opening Hours: Daily 05:00 – 19:00
Address: 119, Tran Phu Street, Hau Chai District, Da Nang
2 Vinh Trung Plaza
Featuring colonial French architecture and modern facilities, Vinh Trung Plaza houses an expansive supermarket, arcade centre, cinema, as well as plenty of dining and retail outlets. The shopping complex is also set within a 10-minute drive from Da Nang International Airport and several prominent attractions, including Cham Museum, Dragon River Bridge, and My Khe Beach. Shoppers can find clothing, accessories, and shoes by local designers as well as imported household appliances, books, and fast food chains such as Lotteria, Highland Coffee, and KFC.
Opening Hours: Daily
Address: 255-257 Hung Vuong Street, Hai Chau District, Da Nang
3 Con Market
Con Market is home to over 2,000 stalls, making it the largest (and busiest) wholesale shopping venue in Da Nang. Also known as Da Nang Commercial Centre, you can find fresh produce, dried goods, coffee beans and plenty of food stalls on the ground floor while the upper level hosts handicrafts and tee shirts vendors as well as tailor services. As with any market in Vietnam, haggling is encouraged here where you can bargain up to 50% off the retail prices. Set along Ong Ich Khiem Street, Con Market is just across the street of Vinh Trung Plaza. Read More…
Opening Hours: Daily
Address: 318, Ong Ich Khiem Street, Hai Chau District, Da Nang
4 Lotte Mart Da Nang
Lotte Mart Da Nang is one of the coastal town's largest shopping malls, offering ample entertainment, shopping, and dining opportunities for locals and travellers alike. The five-storey complex features an extensive collection of cosmetics, electrical and household appliances, apparel, accessories, and shoes from popular international brands such as Samsung, Levi's, Nike, Magoza, Debor, Sense, Josephi, and The Face Shop. A massive supermarket is located on the fourth floor while the top level hosts a bowling alley, arcade centre, and skating rink for the little ones. Located in Nai Nam Street, Lotte Mart Da Nang is accessible within a ten-minute taxi ride from Da Nang International Airport.
Opening Hours: Daily 08:00 – 22:00
Address: 6 Nai Nam Street, North Hoa Cuong Ward, Hai Chau District, Da Nang
5 Da Nang Souvenirs & Café
Da Nang Souvenirs & Café overlooks the tranquil Han River and sells authentic local souvenirs at attractive prices. This quaint shopping venue is fitted with floor-to-ceiling glass windows, wooden and steel fixtures, as well as carambola and bougainvillea trees within its premise. You can find plenty of tee shirts, soft toys, key rings, fridge magnets, and coffee mugs here, all of which make great gifts for loved ones back home. Great for escaping the city's busy traffic, the café has an extensive drinks list that range from iced coffee and fruit juices to Italian sodas and mojitos.
Opening Hours: Daily 07:30 – 21:30
Address: 34 Bach Dang Street, Hau Chai District, Da Nang
6 Non Nuoc Fine Arts Village
Non Nuoc Fine Arts Village is set at the foot of Da Nang's Marble Mountains, where you can find numerous artisan workshops and retail outlets selling marble goods at affordable prices. Locals often make their way to this 300 year-old village to purchase rice mortars, grain grinders, and tombstones while tourists can find an array of handcrafted jewellery made from precious stones, including rings, necklaces, pendants, and bracelets. Due to its close proximity to several ancient pagodas in Marble Mountain, Non Nuoc Fine Arts Village also houses intricate marble sculptures of Buddha, sphinxes, animals, and national icons of various sizes.
Opening Hours: Daily 08:00 – 19:00
Address: Huyen Tran Cong Chua Street, Ngu Hanh Son District, Da Nang
---
Tags:
The Best 5D4N Tour Package in Central Vietnam, Tour in Danang, Best Tour Package in Danang, 5D4N Tour in Danang, Tour Golden Bridge, Danang Tours, Tours in Danang-Hoian-Hue, Golden Bridge Tours, Tour Package in Danang-Bana Hills- Golden Bridge, Tour in Danang 4D3N, Danang Tours 4Days 3Nights, Best Tour in Danang 4D3N, Smile Travel, Da nang to hoi an,  Tour da nang, tour in Danang, Vietnam tour package, Danang tours, Da nang to hue, Da nang to hue, Da nang beach, Vietnam tours, Vietnam holidays, Cheap flights to Vietnam, Da nang travel, Danang tour package, Halong bay tour, Vietnam tour packages, Danang trip, Da nang tour package.
Smile Travel is one of the fast growing Tour Companies in Vietnam. We are as Inbound and Outbound Tour Operator Licence No 01-1051/TCDL-GPLHQT. We specialize in tailor-making and customizing individual, Couple, family and group tours throughout Indochina destinations.
Our Tour:
Halong Cruises Tours, Vietnam Classic Tours, Hanoi Daily Tours, Danang Daily Tours, Ho Chi Minh Daily Tours, Biking and Motorbike Tours,Vietnam Beach/ Relaxing Tours,Vietnam Muslim tour in Hanoi,Vietnam Muslim tour in Danang ,Vietnam Muslim tour in Ho Chi Minh,Vietnam Eco Tours,Vietnam- Laos Tours,Vietnam- Cambodia Tours,Vietnam- Myanmar Tours,
Our Travel Services:
Tour Guide, Car/Motorbike For Rent, Visa to Vietnam, Bus Tickets, Bus Tickets, Flight Tickets, Train Tickets

--------------------------------------------------
Head Office: