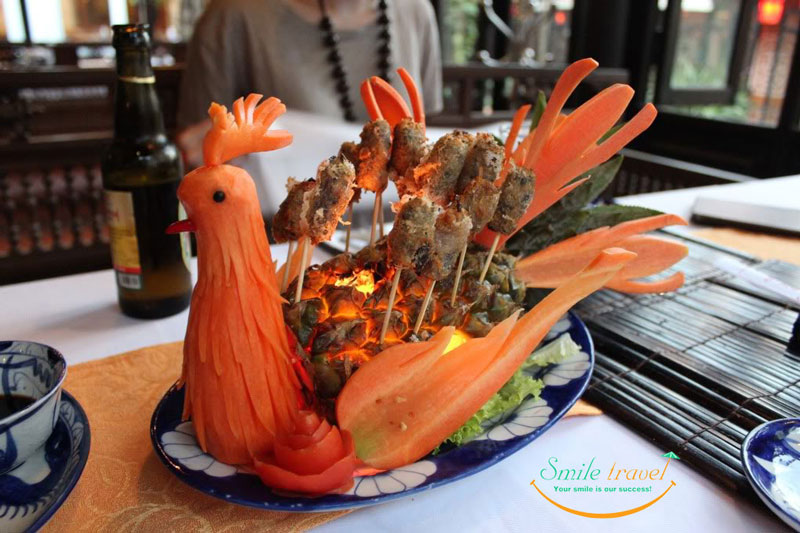 Enjoy dinner at Ancient Hue Royal Cuisine
Enjoy dinner at Ancient Hue Royal Cuisine and Gallery
One of the best-known restaurants in Hue is Ancient Hue Royal Cuisine and Gallery which serves delicious food and is located inside an ancient housing complex.
The food is a mix of local and international fare and although it is a little pricier than other restaurants in the city it is more than worth it if you are in the mood for some upscale dining.
They also serve cold beer so this is a great place to unwind after a day of sightseeing.
HOW TO GET TO HUE ANCIENT CAPITAL
– By plane
Hue's international "Phu Bai" (HUI) airport fields daily flights to and from Ho Chi Minh City and Hanoi, but flights are quite often disrupted by poor weather during the rainy season (Mid October – Mid December). Three airlines fly to "Phu Bai" airport: Vietnam Airlines, Jetstar Pacific and Vietjet. The airport is 15 kilometers away from the city center and should cost no more than 250,000 VND by taxi (30-minute ride).
– By train
Several trains a day to Hanoi, Ho Chi Minh City, Da Nang (4 hours) etc. The journey down south through Lang Co and the Hai Van Pass is particularly scenic, and from Da Nang you can take a taxi or motorbike to Hoi An.
Train from Hanoi to Hue
A second-class sleeper from Hanoi to Hue on the SE1 (leaving Hanoi at 19h00) cost 710.000 on October 25th, 2012 (for a hard-sleeper, 6-person cabin, middle bunk; bottom bunk is a little more pricey while top bunk is the cheapest). A soft sleeper (first-class) bunk costs around 900.000 dong on March 18th, 2016. They will most probably try to sell you this option, which gives you more privacy and comfort. There are food and drink carts on the train, selling dumplings, instant noodles, coke, beer and coffee at reasonable prices.
A second-class sleeper ticket from Ho Chi Minh City on the much superior 'express' SE2-SE6 train to Hue costs between 588,000 & 740,000 dong depending on the level you're on (1,2 or 3). SE 2 departs at 7.00 PM. Be warned the beds are quite hard, as there is not much of a mattress (about half an inch thick), and it is placed over a plastic bench/seat. You can get other train types, but the little extra you pay is worth it several times over. It offers a wonderful travel experience. The traveler gets to sit, lie and sleep in a very small cabin for 23 hours with five other people (nearly always Vietnamese), eat four plain but tasty and filling Vietnamese meals, listen to a fine selection of Vietnamese pop songs on the PA, and see some incomparably beautiful countryside, particularly in the last section between Da Nang and Hue. It's an excellent way to see the country and meet ordinary Vietnamese, who are unfailingly friendly and helpful, even to travelers who have not bothered to learn a word of their language. The trip is especially recommended if you like babies.
– By bus
From Airport you can ask your transportation to transfer you to Phu Bai Airport (about 30km) 14$/private car or Airport —> Hoi An 70$ for private car, 15$ for group bus/ 20$ for group LUXURY bus; Airport —> Hue City center; Hue —> Ninh Binh —> Cat ba; Hanoi —> Cat Ba; Hue —> Hanoi… you can ask all your requests for transportation in Vietnam through info@catbaexpress.com / catbaexpress.com/ WHATSAPP +84976951999. They can provide you in detail.
Daily bus from Hue to Hoian running by a local tour operator in Hue city.
Daily bus schedule: 9:00 Hue – Hoian – VND 210,000 ~ $10 Stop on the way at Cau Hai Lagoon, Lang Co Beach, Hai Van Pass, Marble Mountains. 14:00 – 14:30 arrive in Hoi An.
Daily bus from Hoian to Hue: 15:30 Hoian – Da Nang 16:00 Stop at Marble Mountains 17:30 Taking photo & take a rest at Lang Co Beach 19:00 Hue arrival
Hotel picks up. Drop off: Hue: 120 Le Loi Street., Hue city, | Da Nang: 198 3/2 Street., Da Nang city | Hoian: 77 Ba Trieu Street., Hoian Town
– By car
Normally you can get a train from Da Nang city to Hue or Tourist Bus from Hoian or ride a motorbike by yourself to Hue but you can also travel to Hue city on a private car. You can contact a local company to get in there. Distance 145km -4 hours of driving. But the most advantage of private transfer is you can stop on the way such as Marble Mountain, Cham Museum, Lang Co Beach, The Cloudy Pass and Elephant Spring for swimming before get to Hue while others are non stop.
– By motorbike
Motorbike is the absolute best way to get in from Da Nang to Hue! And you have to ride through the Hai Van Pass which is one of the most scenic passes connecting the two cities. Serpentine roads zig-zag through mountains, leaving behind a beautiful coastline. You can tackle this on a motorbike yourself, however, it's best to go with an easy rider or a tour, especially if you're not a ninja on the motorbike because the curves are overwhelming.
– By taxi
Like other Vietnamese cities, Hue is flooded with cyclos and motorbikes, as well as a few meter taxis. Taxi drivers are usually honest, but make sure they turn the meter on trips start at 15,000 dongs for the first 2km and tick upward at 11,500 dongs/km. Some meters run incorrectly (showing up to 10 times the distance actually traveled), so ensure you have a rough idea of the distance to your destination. If the meter is running too quickly, at the destination pay an estimate of the fair price and insist on calling the police if the driver will not accept the estimated non-meter price. The driver will back down. A metered trip out see two tombs, with waiting time, should come to around 300,000 dongs (US$18).
If you travel with a big group, you should arrange private car rental with hotels or any travel agents in Hue With cyclos and motorbikes, all of the usual disclaimers apply: negotiate a price ahead of time, and don't be afraid to walk away if they're asking too much. No trip in Hue should cost more than 20,000 dongs. Many of the motorbike drivers double as pot dealers, and you may be offered to buy marijuana along with your ride.
---
– What is on in Hue?
+ Top Things to do in Hue (Attractions, Points of Interest and Activities)
+ UNESCO World Cultural Heritage: Complex Hue Monuments. …
+ Thien Mu Pagoda Visit and Perfume River Boat Ride. …
+ Trang Tien Bridge. …
+ Visit the tombs of Nguyen Emperors. …
+ Enjoy Hue Cuisine in Dong Ba Market. …
+ Experience Hue Royal Banquet Dinner.
– What is hue known for?
Hue is well known for its historic monuments, which have earned it a place in UNESCO's World Heritage Sites. The seat of the Nguyen emperors was the Imperial City, which occupies a large, walled area on the north side of the Perfume River.
– Is Hue worth visiting?
Worth a day trip but not any longer
It was a nice experience and I would recommend that you visit Hue if you're staying nearby. If you're thinking of taking the train from Danang to Hue, only do so if you have time to spare (3 hours) and if you can cope with trains that are not the cleanest.
– Is Hue Vietnam safe?
Hue is a very safe city to travel in. The roads are safer than many other parts of the country – though they're getting busier fast – and street crime is rare. Cyclo drivers are persistent to the point of annoyance.
– How is hue pronounced?
It is a single syllable name – "H-Way"
– What is hue in color?
hue. Green, orange, yellow, and blue — each of these is a hue, a color or a shade that's true. A rainbow shows the melting of one hue into another, from red to violet, and all shades in between. The noun hue means both a color and a shade of a color.
– Which is better Hue or Hoi An?
Where Hue is more hectic and historic, Hoi An has an old town that is just perfectly chilled out, with no traffic allowed in some areas. Hoi An during the day is very relaxed and there's not much going on, but Hoi An has a really good cafe scene, way better than Hue.
– What to do in Hue at night?
+ Watch the sunset in front of the Citadel.
+ Eat dinner at the Dong Ba market.
+ Get on a dragon boat and listen to Hue folk songs while cruising the Perfume River.
+ Watch the colorful Truong Tien bridge while drinking coffee.
+ Walk in the night market.
+ Get a beer in the walking street.
– How do I get from DaNang to Hue?
Travel by train from Da Nang to Hue takes about 2,5-3 hours. Travel by bus/van/minibus from Da Nang to Hue takes about 3-4 hours. Travel by taxi/private car from Da Nang to Hue takes about 1,5-3 hours. Travel by plane of Hai Au Aviation from Da Nang to Hue takes about 40 minutes.
– How far is Danang from Hue?
110 km
Hue to Danang distance is 110 km and it takes 3 hours to drive by car.
– How do you travel to Hue?
Normally you can get a train from Da Nang city to Hue or Tourist Bus from Hoian or ride a motorbike by yourself to Hue but you can also travel to Hue city in a private car. You can contact a local company to get in there. Distance 145km -4 hours of driving.
---
Smile Travel is one of the fast growing Tour Companies in Vietnam. We are as Inbound and Outbound Tour Operator Licence No 01-1051/TCDL-GPLHQT. We specialize in tailor-making and customizing individual, Couple, family and group tours throughout Indochina destinations.
Our Tour:
Halong Cruises Tours, Vietnam Classic Tours, Hanoi Daily Tours, Danang Daily Tours, Ho Chi Minh Daily Tours, Biking and Motorbike Tours,Vietnam Beach/ Relaxing Tours,Vietnam Muslim tour in Hanoi,Vietnam Muslim tour in Danang ,Vietnam Muslim tour in Ho Chi Minh,Vietnam Eco Tours,Vietnam- Laos Tours,Vietnam- Cambodia Tours,Vietnam- Myanmar Tours,
Our Travel Services:
Tour Guide, Car/Motorbike For Rent, Visa to Vietnam, Bus Tickets, Bus Tickets, Flight Tickets, Train Tickets

--------------------------------------------------
Head Office: